Transform complex, diversified portfolio data into clear and concise reporting
Today's ultra-high-net-worth investors demand reliability, elegance and — above all — accuracy in their investment reporting. Together with SEI Family Office Services, you can create a world-class reporting experience for your clients. Our consolidated investment reporting service aggregates managed and held-away investment information across public and private assets to give you and your clients a holistic, accurate view of their net worth.
Our team of operational and business-process-outsourcing experts work as an extension of your in-house reporting team to create tailored client and management reporting. Using custom client statements, report packages and a digital client portal, you can securely deliver unmatched transparency across your client's consolidated holdings, performance, exposure and investment allocation details.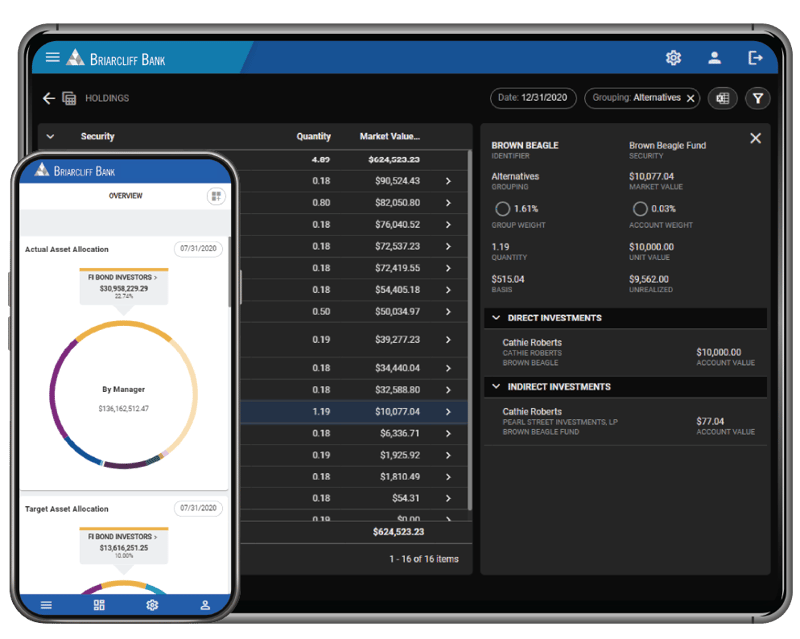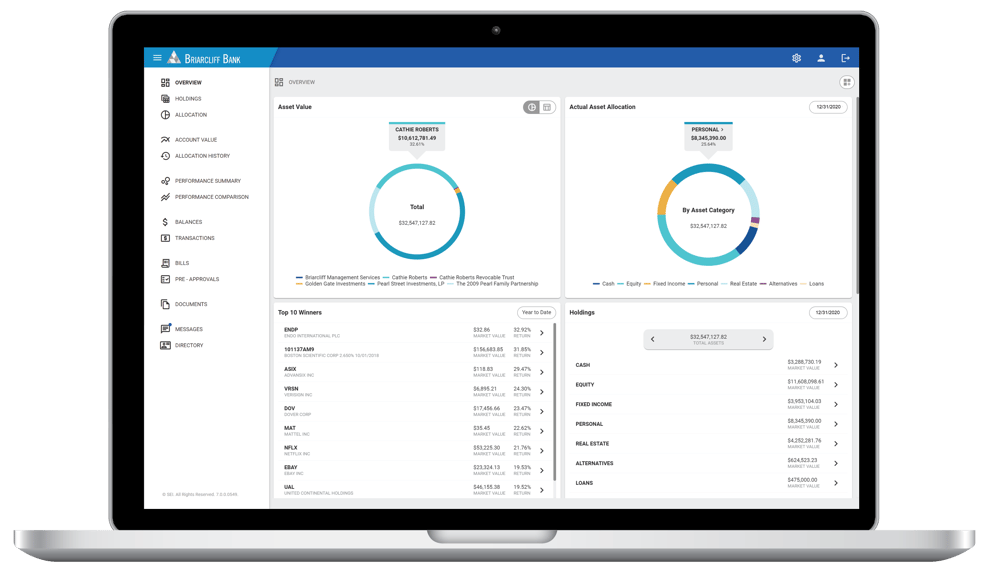 Aggregated financial data with less noise
Automated, direct data feeds
Using the Archway Platform, SEI Family Office Services collects data directly from banks, custodians and brokerage firms giving us more control over the quality and flow of the data – and our enhanced reconciliation tools give you cleaner, more accurate reporting information.
More than just market values
Deliver client reporting that extends beyond traditional assets and simple data points to provide meaningful, relevant financial information that includes alternative investment transactional details, cash flows and personal asset valuations.
Multiple asset types, one reporting solution
Provide a comprehensive net worth picture across custodians, managers, accounts and investments including equities, fixed income, private equity, hedge funds, real estate, personal property and collectibles.
A trusted team of accounting and operations professionals
A track record of exceptional client service
With 20 years of experience and hundreds of family office and private banking clients, SEI Family Office Services is a dependable partner with the kind of staying power that only industry veterans earn.
Clean, reconciled data every time
Our team uses award-winning technology and time-tested processes to ensure that your client data is normalized, enriched and reconciled across multiple sources on daily, monthly and quarterly intervals, adhering to comprehensive service-level agreements around data accuracy, timeliness and error processing.
Sophisticated data security
Protect your clients' data by partnering with a firm where confidentiality, security, technology and information controls govern every aspect of the intake, processing and accessibility of the data that resides on or passes through the Archway Platform.
Your client reporting, your way
Sophisticated client reporting
Curate a bespoke client reporting experience that blends traditional report presentations with modern, on-screen reporting technology that can be tailored to your firm's reporting and branding standards.
Thousands of reporting possibilities
Choose from an extensive library of reporting options that enable you to combine traditional portfolio reports with detailed financial insights like performance measurement, cash flow and expense management reporting.
Online client portal
Give your clients on-demand access to their financial information through an interactive, mobile client portal where they can view assets, measure performance, assess risks and access important reporting documents.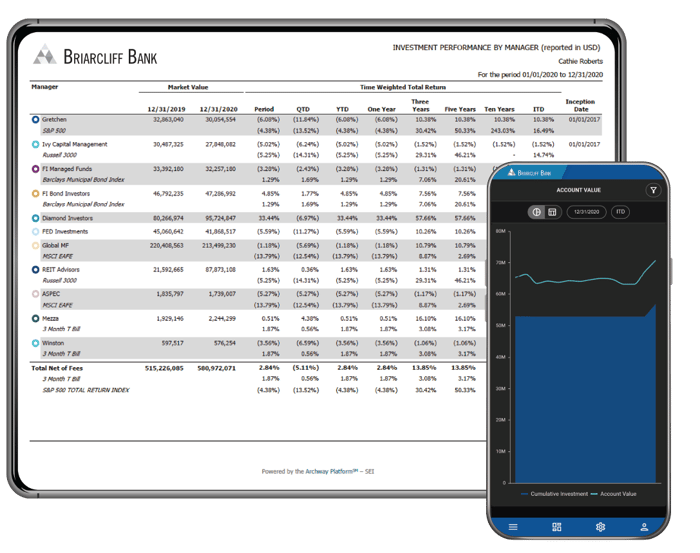 Integrated technology and services for a solution that fits you
Our flexible solutions allow you to create a unique combination of technology and services that makes most sense for your firm and your clients.
Technology Model
Prefer to use your in-house team to produce client reporting? We'll help you harness the power of the Archway Platform to manage your accounting, investment data aggregation and reporting operations – and you'll join hundreds of family offices and financial institutions that are already using our award-winning technology.
Outsourced Model
Data processing and report creation can be manual, time-consuming and error prone operations. Partner with SEI Family Office Services and we'll take care of the data aggregation, validation, enrichment and report preparation processes on your behalf.
Hybrid Model
Use the Archway Platform in-house while handing off recurring, labor-intensive tasks like data aggregation and portfolio reconciliation to SEI Family Office Services. Don't need us to do all of the work? We're happy to focus on reconciling a subset of your holdings, including alternative investments and personal assets.