A powerful reporting tool that engages your clients by making the complex simple
Client reporting should be sophisticated but flexible, elegant but meaningful and secure but accessible. The Archway Client Portal delivers a compelling way to analyze and present complex financial information to your high-net-worth clients.
Featuring interactive reporting dashboards, customizable data views and organized document storage, the Archway Client Portal is a highly-secure, bank-grade reporting tool that can be used to share consolidated wealth information with your clients on any device, at any time.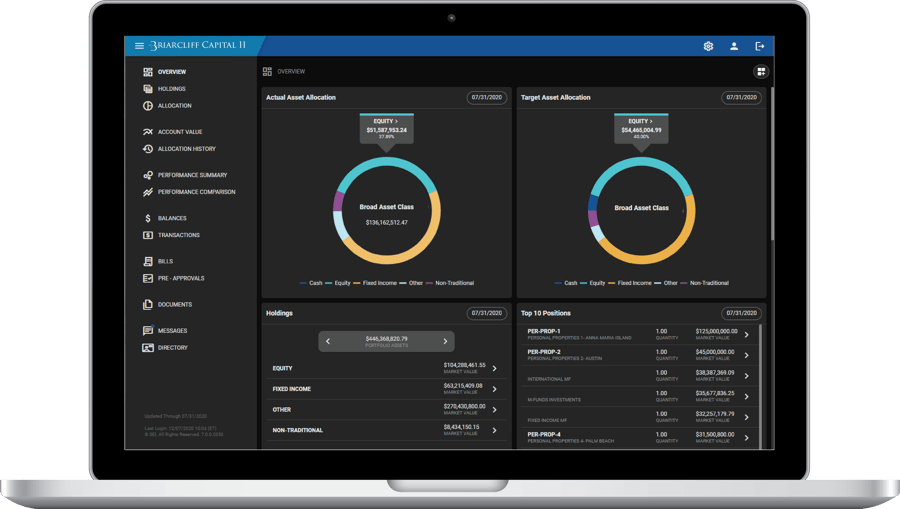 A cutting-edge reporting experience that goes beyond paper
Relevant, interactive reporting dashboards
Give your clients access to their multi-dimensional net worth, investment performance, allocation and account balance data through custom dashboards and adjustable, on-screen reporting to maximize engagement and insight.
On-demand access anywhere, anytime
Allow your clients to access their consolidated financial details across accounts, managers and investments – when they need it, where they need it, how they need it.
Secure document storage
Deliver traditional financial report packages and external documents like partnership agreements, account records and alternative investment statements through a secure, easy-to-use document manager.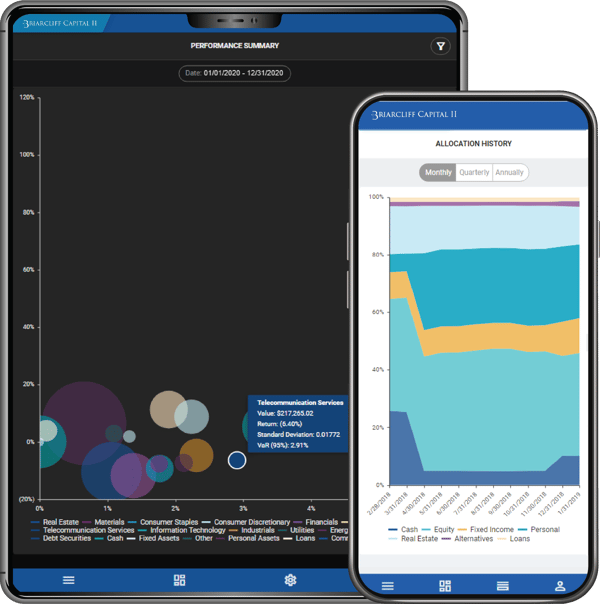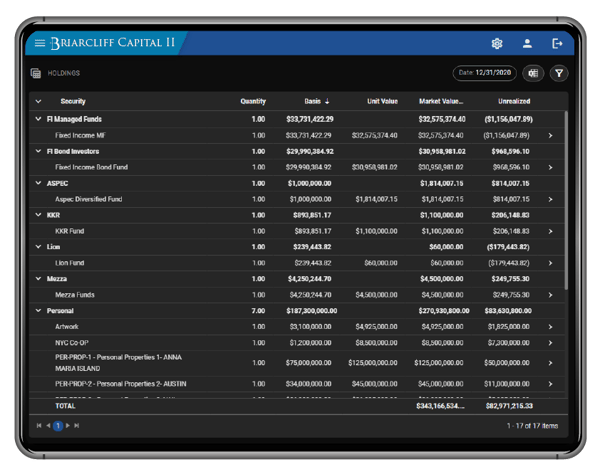 A single, comprehensive view of your client's net worth
A total net worth view
Present a consolidated, accurate net worth picture by combining your client's equity, fixed income, hedge fund, real estate and private equity investments alongside their business interests, cash accounts and personal assets like homes, yachts, planes and jewelry.
Automated data collection and delivery
Enable standardized analysis across multi-source data with user-defined data groupings like asset class, sector or strategy.
Comprehensive asset tracking
Aggregate and present data automatically across custodians, accounts, managers, investment types and currencies – all within a simple, elegant online reporting portal.
Flexible layouts for each of your unique clients
Configurable data views
Choose from allocation, holdings, performance, account balance, expense and cash summary views as you curate a unique portal experience that speaks to the sophistication of your clients.
User-controlled data analysis
Allow your clients to analyze their financial information through various lenses including user-defined data groupings and ad hoc consolidation across entities and accounts.
Custom branding
Design the portal to match your firm's brand identity including logos, color palette and voice.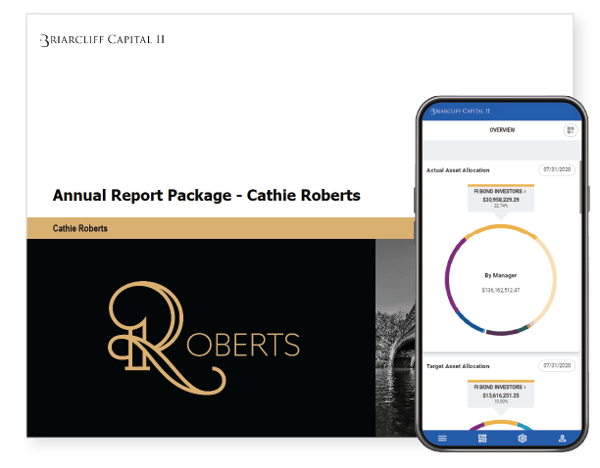 Integrated technology and services for a solution that fits you
Our flexible solutions allow you to create a unique combination of technology and services that makes most sense for your firm and your clients.
Technology Model
Leverage the Archway Platform in-house to manage your accounting, investment data aggregation and reporting operations. But don't worry, you're never alone. Our client service team is with you every step of the way.
Outsourced Model
Let SEI Family Office Services do the work for you. Our trusted accounting, operations and reporting specialists operate as a seamless extension of your back-office team to deliver a wide range of award-winning services.
Hybrid Model
Want to use the technology but need additional resources to support you? Offload your most time-consuming operations to us and use the Archway Platform in-house to perform the tasks that empower you.