Managing complex wealth –

simplified
In the early 2000s, SEI Family Office Services created a sophisticated, enterprise wealth management platform to give family offices and financial institutions a simpler alternative to disconnected, single-purpose technology solutions. Withstanding the test of time and advancing every step of the way, the Archway Platform makes the complex look simple — unifying the accounting, investment data aggregation and reporting tools you need within a single, integrated platform.
Designed on top of a core general ledger, the technology automates the creation of accounting records across dozens of business functions — like traditional and alternative investment transactions, cash movements, bill payments, fee calculations and capital distributions — allowing your accounting, investment and administrative teams to work within the same application. Plus, the Archway Platform's built-in reporting engine allows you to leverage all of the underlying data to produce comprehensive financial reporting across entities, portfolios, managers, currencies and investments.
Discover the ultimate private wealth management technology ecosystem for family offices and financial institutions.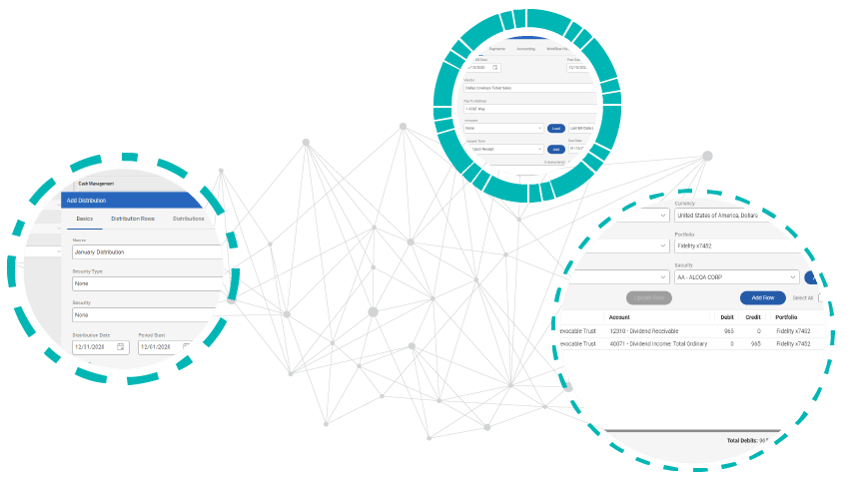 Automate manual accounting operations
A general ledger built right in
Create journal entries automatically as you perform key investment and administrative activities like buying and selling stocks, fulfilling private equity calls and transferring cash.
Cash management made easy
Handle complex capital movements between equity and bank accounts through easy-to-use accounting tools.
Don't forget the AP tools
Track bills, manage budgets, write checks, store invoices and apply workflow controls to manage your firm's bill pay operations.
Gain a complete view of your client's wealth
Advanced account aggregation
Analyze consolidated financial data across custodians, managers, accounts, entities, asset types and currencies – and then break it down again for in-depth analysis and gainful insights.
Automated data collection
The Archway Platform features automated, direct data feeds with custodians, prime brokers, banks and pricing sources so that you receive updated, reliable daily transaction, position and cash detail.
Comprehensive asset tracking
Consolidate your client's equity, fixed income, hedge fund, real estate and private equity investments alongside their business interests and personal assets like homes, yachts, planes and jewelry – all within the Archway Platform.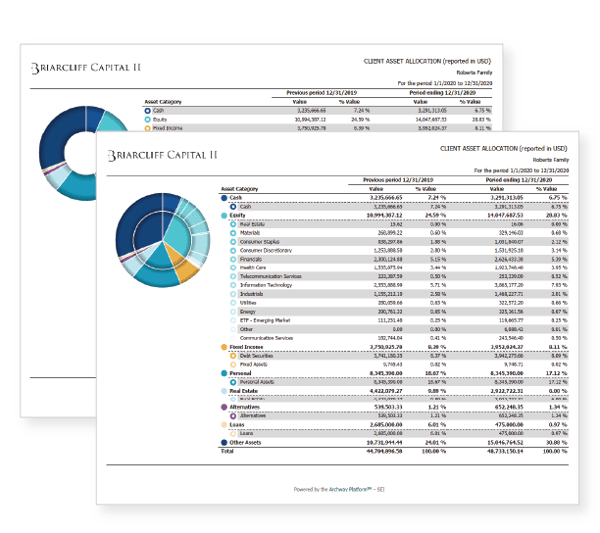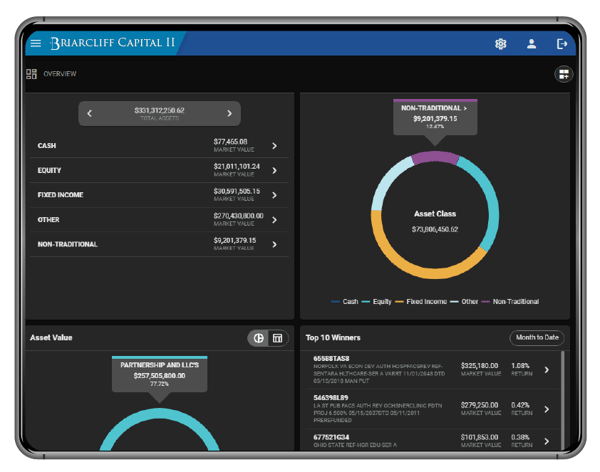 Take your reporting to the next level
Sophisticated financial reporting
Produce comprehensive, customized client report packages using any of our 200+ standard reports, available on-demand and generated in an efficient, accurate and timely manner.
Advanced investment analytics
Understand benchmark performance, compare models to actuals and assess client exposure and portfolio risk to make smarter investment decisions.
Interactive reporting dashboards
Gain instant access to crucial client performance, asset allocation and account balance information at-a-glance to simplify day-to-day investment activities.
Integrated technology and services for a solution that fits you
Our flexible solutions allow you to select a unique combination of technology and services that makes most sense for your firm and your clients.
Technology Model
Leverage the Archway Platform in-house to manage your accounting, investment data aggregation and reporting operations. But don't worry, you're never alone. Our client service team is with you every step of the way.
Outsourced Model
Let SEI Family Office Services do the work for you. Our trusted accounting, operations and reporting specialists operate as a seamless extension of your back-office team to deliver a wide range of award-winning services.
Hybrid Model
Want to use the technology but need additional resources to support you? Offload your most time-consuming operations to us and use the Archway Platform in-house to perform the tasks that empower you.